Join our Building Hope Capital Campaign!
Oklahoma is currently #1 in the nation for rates of domestic violence- 49% of women and 40% of men report experiencing intimate partner violence at some point of their lives. Oklahoma is currently #2 for the rate women are murdered by men, nearly twice the national average. Our need is outpacing our capacity. 
For over 42 years, Community Crisis Center has been providing no-cost services to local survivors of domestic violence, sexual assault and stalking. What started as a hotline and dedicated group of volunteers has grown into a three-county regional operation with five locations. Last year we served 675 survivors. 
Our Miami Office not only oversees all of our agency operations- including Craig, Delaware and Ottawa Counties but also currently sees more walk-in clients than any other center. Last year our Ottawa County Non-Residential Advocate worked with 125 unduplicated clients. Our current space is almost 100 years old. We office out of a two story building with one upstairs restroom for all of our staff and clients. We do not have the necessary ADA accommodations in place for the client-base that we serve and we have outgrown our space. Getting by is no longer an option when we serve clients in crisis. We have continued to grow our locations, operations and staffing while maintaining the same space. 
We have a community solution and we need your help! We are building a new Miami office that not only meets our current needs but also gives our agency room to grow into the future. Our new location will match the high-quality service and support our agency provides the community. We have been gifted land by the Ottawa County Child Advocacy Center and Ottawa County to build. The Ottawa County Commissioners have given us almost $90,000 in ARPA Funds to pour the slab and build the frame so that we can begin our project. We have also been able to set back a reserve fund to help with finish out. We have a goal of $300,000 to raise through community support to finish out our space.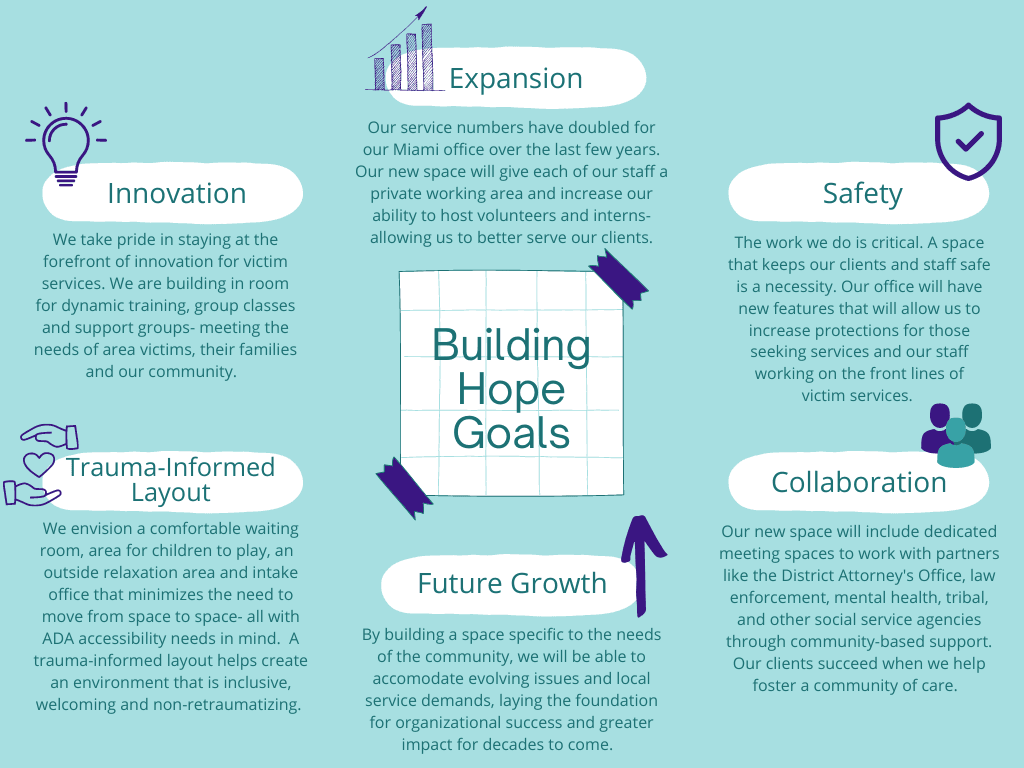 Interested in make becoming a Legacy Partner? Gifts of $10,000- $25,000 will include naming rights of some of our spaces. Areas include: Client Welcome Area, Collaboration Room, Client Intake Office and Garden of Peace. Limited naming rights spaces available. Contact us directly to discuss legacy donations. 
Join the Building Hope Campaign here:
Donations can also be mailed or presented directly to CCC at 118 A Street SE Miami, OK 74354.
For questions or more information, contact Kelsey at 918-540-2275 or kelsey@gemeout.org
Building Hope Project Management Team:
Kelsey Samuels, CCC Executive Director
Heather Lillard- CCC Board Member
Jonas Rabel- CCC Board Member
Mariel McGehee- CCC Board President
David Davis- Keller Williams Partners- Miami
Building Hope Fundraising Team:
Kelsey Samuels, CCC Executive Director
Tobie Gatewood, CCC Board Member
Dick Lillard
Interested in joining our team? Email: kelsey@getmeout.org